Hospital Care and Substitute Decision Making
October 23, 2020 @ 10:00 am

-

11:30 am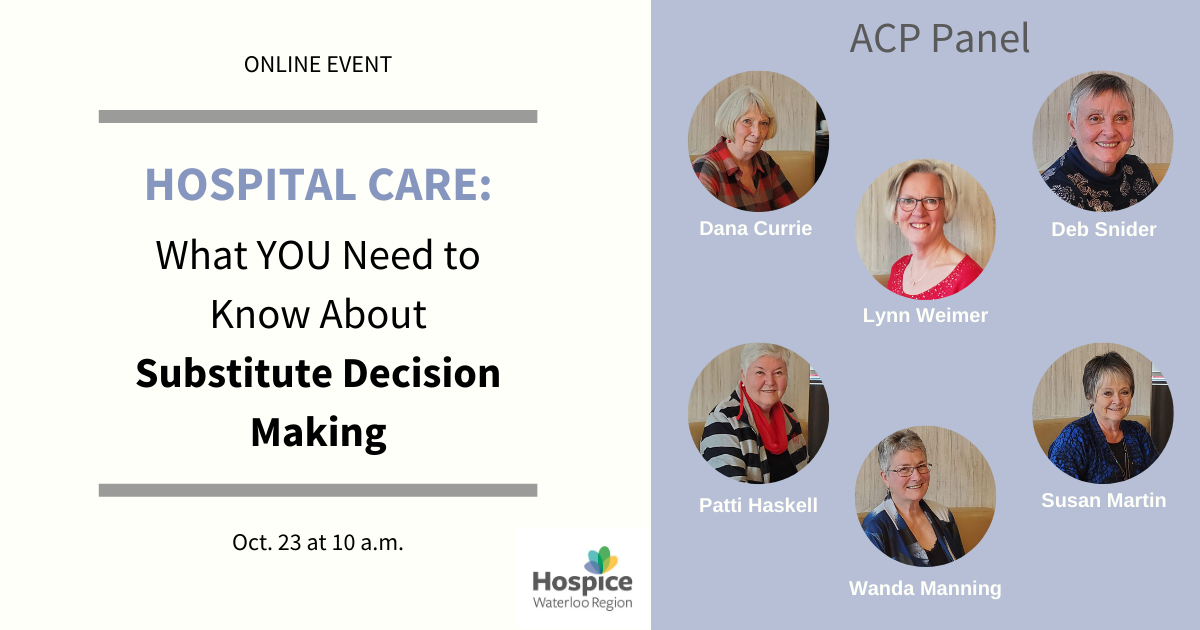 On Oct. 23, the Advance Care Planning (ACP) Ambassador Team of Hospice of Waterloo Region will provide an opportunity to explore Substitute Decision Making (SDM) as it relates to health care decision-making in a hospital setting in an online session, "Hospital Care: What YOU Need to Know About Substitute Decision Making."
Our own Patti Haskell will facilitate a panel discussion of her fellow ACP volunteers — Lynn Weimer, Deb Snider, Wanda Manning and Susan Martin, who have stories to tell about decision making in the hospital. They bring a wealth of experience as retired educators, nurses, family members and patients.
This is the second of a three-part series offered by the ACP team. Over the past five year,  this team and staff at HWR has provided over 500 education sessions about Advance Care Planning in Ontario. During that time the confusion and misunderstandings about health care decision making in Ontario and the role of the SDM came up over and over . In addition, these sessions almost always raised questions about the kind of decisions the SDM might have to be make and what kind of conversations to be having in order to prepare one's SDM.
Join us on Oct. 23, as we discuss and learn from each other with ample opportunity for questions and small group discussion of the topic. Register Today!
To learn more about the ACP Team, click here.