Online Book Chat with Mark and Martina: Taking a Look At Children's Books
November 18, 2020 @ 6:30 pm

-

7:30 pm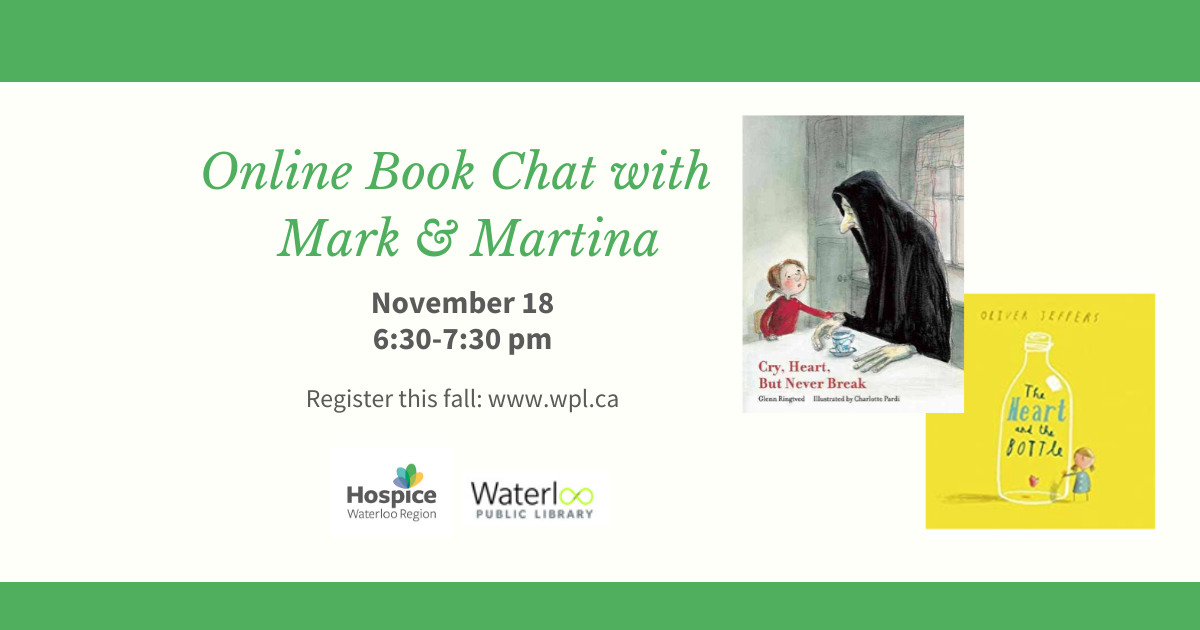 These books are not only for children; they touch and inform us as adults just as much
Join Mark and Martina of Hospice Waterloo Region for a sneak peek as they explore and discuss two children's books exploring the themes of love and loss: Cry, Heart, But Never Break by author Glenn Ringtved, and The Heart and The Bottle by author Oliver Jeffers.
We read to our children for the same reasons we read books ourselves: to be entertained, to feel less alone, to find help navigating things we don't understand. There are picture books about where babies come from and about losing a tooth and about the first day of school. And now and then a brave author gives us a book about the end of life.                                (Sophie Blackall, New York Times, Apr. 27, 2018)
FAQs
Do I need to have read the books? No. This is really an opportunity for any reader who is interested in trying something new and different to hear about the books.
What can I expect in the online session? Mark and Martina will provide an overview of each book, and lead a discussion on why you should consider reading them.
Who should attend? Anyone looking for a new read!
About the books
New York Times Book Review for Cry, Heart, But Never Break: Despite its icky title, Cry, Heart, but Never Break, a 2001 Danish work, is rich and affecting. You'll know something is amiss in Denmark from the moment you open the book to a haunting watercolor illustration dominated by a dusky, rose-smudged sky, shadowy grasses traversed by a black cat, and a slanting old house with a watchful bird perched on top.
Brain Pickings Review for The Heart and The Bottle: Once there was a girl whose life was filled with wonder at the world around her…… The Heart and the Bottle by award-winning picture book star Oliver Jeffers explores themes of love and loss in this life-affirming and uplifting tale. It is an immeasurable delight from endpaper to endpaper, a tender illustrated fable of what happens we deny our difficult emotions…Maria Popova
Date: Nov. 18, 2020
Time: 6:30 pm to 7:30 pm
Registration: Register via the Waterloo Public Library
FACILITATORS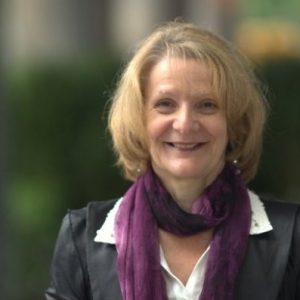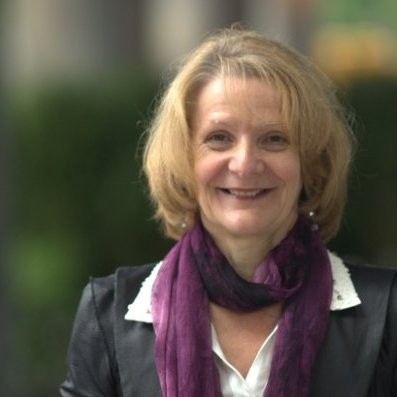 Martina C Steiger, ThD, is a graduate of Narrative Medicine at Columbia University. Her work as a life and story coach, Spiritual Director, writer and transformative educator and facilitator centres on stories, the stories that shape individual experiences and relationships. As a health advocate and consultant, she focuses on the power of those narratives to change the way care is given and received. Martina aims to bring a critical and self-reflective lens to our perspectives, choices and actions. Whole person care throughout our lives, death and dying, and end-of-life matters are topics that have taken on special importance in Martina's life and work.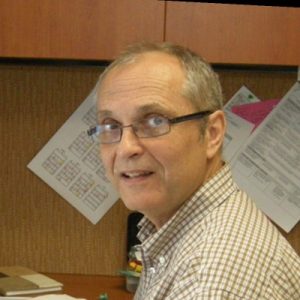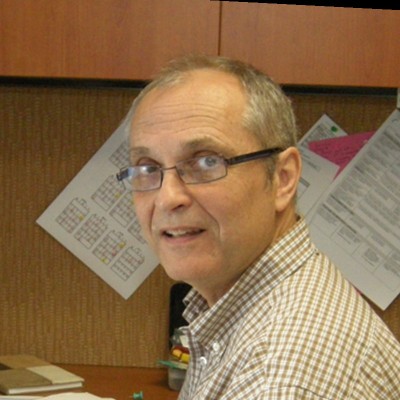 Mark Godin, Director of Strategy and Client Services for Hospice of Waterloo Region, is responsible for providing management and leadership in the development and delivery of Hospice client service programming including volunteer recruitment and management, volunteer visiting, day programming, rostered volunteer services, and community outreach. Mark ensures service excellence through continuous quality improvement. In this position Mark is also responsible for the development of strategies and partnerships for expanded and enhanced client services.